Today was the OrangeTheory Fitness (OTF) dry-land triathlon, or Dri Tri. The word 'triathlon' is pretty intimidating to me, but the coaches at OrangeTheory kept saying that anyone consistently taking classes and getting through the workouts can get through the Dri Tri. Here's what is entailed in the event:
2000 meter row
300 body weight reps – Two rounds of the following:

20 push-ups
20 squats
30 bench hop-overs
40 bench step-ups
20 burpees
20 plank jacks

5k run (3.1 miles)
Until I started OTF six months ago, the longest I have ever run was about a mile. I've been much more into weightlifting than cardio. My primary motivation for joining the studio was to balance the weightlifting by adding more cardio. My cardiovascular fitness has improved significantly over the last six months as a result. However, my longest run in a class was still only 2.2 miles, and that was prior to starting chemotherapy. I've never done a 5k (3.1 miles) before, never mind doing it after rowing and doing 300 reps.
Since the event happened to be on a day when my side effects from chemo have subsided and I've gotten most of my energy back, I decided to give it a shot. I've been sleeping well lately, and have been focused on recovery between workouts, so I felt ready this morning to take on the Dri Tri. Whoop (workout and recovery monitor) said I was "primed to take on high strain" today, which jived with the way I felt this morning.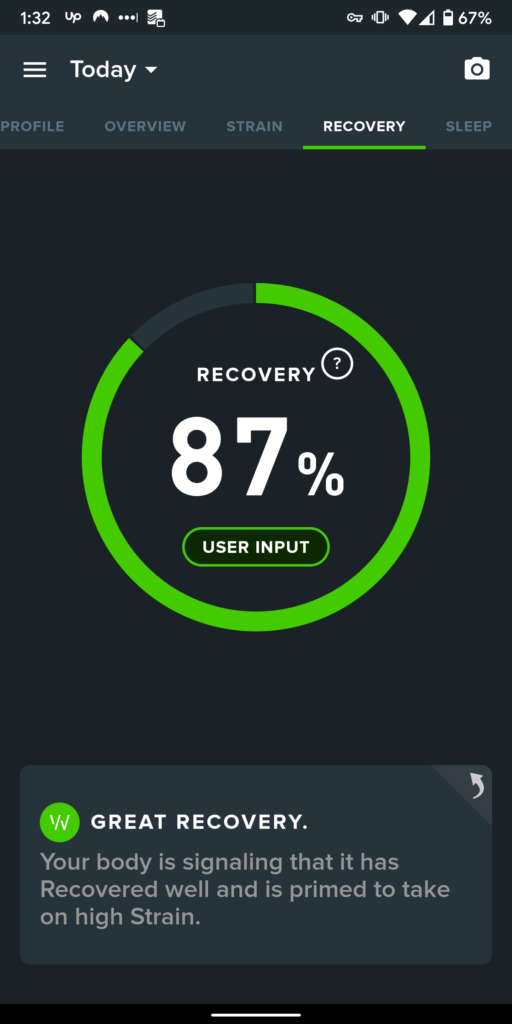 At noon, we kicked off the event. I did the 2000 meter row in about seven minutes. I was probably pushing too hard on this as I felt pretty winded, but I really love rowing (something I never thought I'd say before). Then the body weight exercises were much harder than I expected because I burned a ton of energy on the rower. I completed this part in 18 minutes, again pretty winded. From there, I headed to the treadmill and started with a slow walk to catch my breath, then a faster walk, then worked up to a run. As I approached the finish line 33 minutes later, a bunch of people came over to my treadmill to cheer me on. When I hit the 5k mark, their cheers turned into an even louder celebration with plenty of fist bumps, and I started to well up. I was happy that I could do something like this as a 44-year-old who wasn't in very good shape just a couple years ago. I am even more thrilled to have done this in the midst of my treatment.
I'm very grateful to my personal trainer who helped me kick off my fitness journey with me two years ago with strength training. I'm also grateful to the OTF team not only for rounding out my program to improve my cardiovascular fitness, but also for being a huge motivation to improve myself every single day. These people are very special to me. Going into my treatment, I was in the best shape of my life, and I truly believe that this is helping me in a very big way.