Wednesday, October 2nd was not only infusion #4 of 12, but it was also my sister, Tamara's, birthday. She thought, what better way to spend it than with me. How sweet is that?!
Tamara and I started the day doing an OrangeTheory class and burned lots of calories. I made sure to stay extra hydrated through all of this given the advice from last treatment that I was possibly a bit dehydrated based on my creatinine numbers. Also, given that the side effects of the nausea medication caused constipation, I wanted to try going into this treatment with less food in my system. For the foods that I did eat, I selected those that were easier to digest (e.g. overnight oats, fruits, vegetables, etc).
That afternoon, Jamie, Tamara, and I went to MGH, where we went through the usual pre-infusion lab work. Then we went to the Liberty Hotel next door to the hospital for a light lunch while waiting for our next appointment with the nurse. The Liberty Hotel used to be a jail, and is now a beautiful luxury hotel. It made for a very nice break in the day.
When I met with the nurse practitioner for the pre-infusion meeting, she noted that my white blood cell count is remains just below the normal range and the neutrophils are just above the low end of the normal range which is a great place to be at this point. Last time, my creatinine was a bit high, indicating that my kidneys are working pretty hard. The nurse said this is likely a hydration issue. It looks like I managed the hydration better this time because the creatinine number was lower (better) than any of the previous measurements, including my baseline. As Mary Stratton pointed out to me weeks ago, hydration can help a lot in dealing with the side effects. In my experience so far in recovering from this round, she's absolutely right. (Thanks Mary!)
From there, the next stop was the infusion unit, where Amanda greeted us with a big smile and hugs.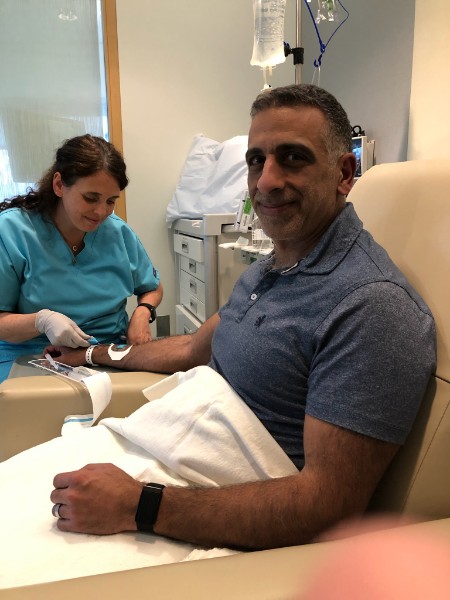 was feeling a bit lightheaded going into the infusion unit for some reason. At first, I chalked it up to the fact that I was eating a bit lighter, and maybe my morning workout exacerbated this. However, as time progressed, I started feeling more and more nauseated even when the only drugs administered so far were the anti-nausea drugs and the saline. I'm pretty sure I was experiencing what they call "anticipatory nausea." About 30% of patients experience this phenomenon. Once we figured out I may be experiencing this, the nurse gave me some Ativan to try to manage it. It may have helped prevent it from getting worse, but I didn't really recover from this feeling until the next morning unfortunately. Strangely, just looking at this picture above with Amanda putting in the line makes me feel nauseated right now just looking at it. It's really amazing how much of this can be in the mind!
Coincidentally, the pre-chemo regimen was slightly modified this time. I usually receive an IV with Emend for anti-nausea before the chemo infusion. This typically takes 30 minutes. However, MGH moved to a new drug which can be administered in 2 minutes using a syringe into the line. I don't think this change caused my nausea issues because I was feeling the nausea even during the saline IV before the chemo infusion. I do like the time-saving benefit of this change though.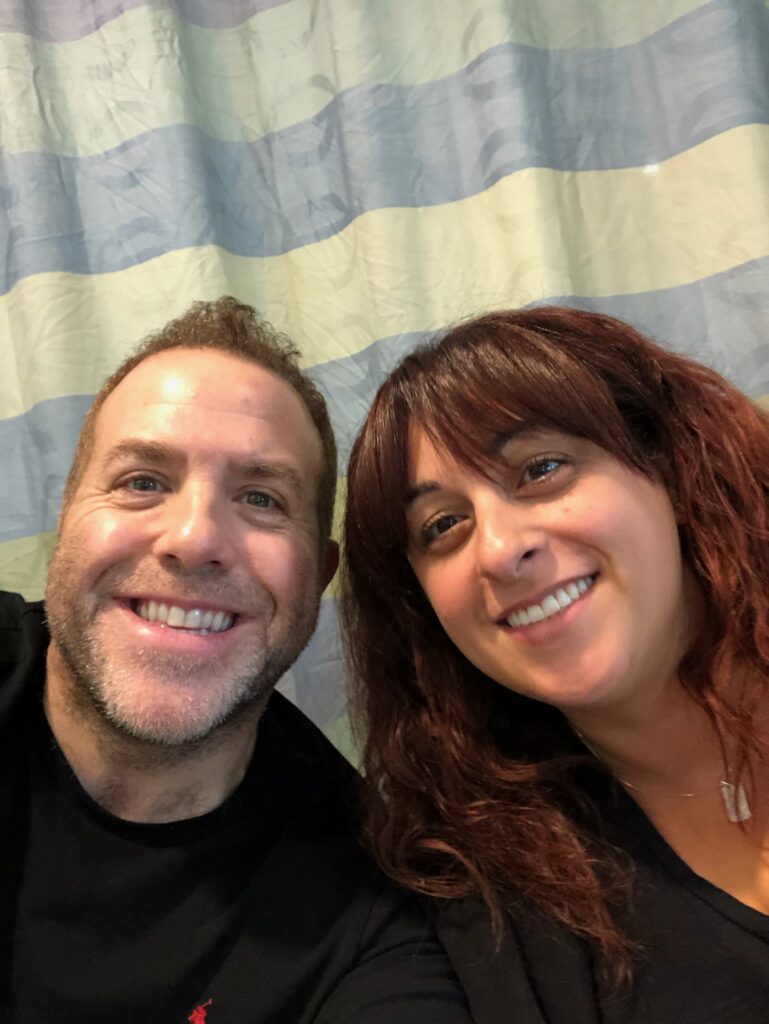 It was definitely nice to have Tamara and Jamie by my side through this experience. I did take a little snooze during the infusion as this one was a bit tougher for me with the nausea. I also experienced a tiny amount of discomfort around the vein where the needle was placed. Amanda managed to resolve this by diluting the infusion with saline. That worked! I'm trying hard not to project what any of todays issues mean for future treatments. It's very easy to imagine anticipatory nausea and vein issues for future treatments, but these could also be one-offs. Amanda wasn't too concerned about the vein issue
From there, time really seemed to go pretty quickly and infusion #4 was complete.